My Faith Story in 100 Words: Moses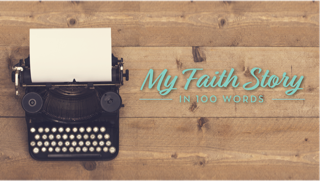 Exodus 3:1-6
Moses was keeping the flock of his father-in-law Jethro, the priest of Midian; he led his flock beyond the wilderness, and came to Horeb, the mountain of God. 2There the angel of the Lord appeared to him in a flame of fire out of a bush; he looked, and the bush was blazing, yet it was not consumed. 3Then Moses said, 'I must turn aside and look at this great sight, and see why the bush is not burned up.' 4When the Lord saw that he had turned aside to see, God called to him out of the bush, 'Moses, Moses!' And he said, 'Here I am.' 5Then he said, 'Come no closer! Remove the sandals from your feet, for the place on which you are standing is holy ground.' 6He said further, 'I am the God of your father, the God of Abraham, the God of Isaac, and the God of Jacob.' And Moses hid his face, for he was afraid to look at God.
When it comes to faith stories in the Bible, it's hard to think of a better one to start with than the story of Moses.
We know a few things about his life from the first two chapters of Exodus. How as a baby he was found by the daughter of an Egyptian Pharaoh, floating in a basket on a river. How he was raised by that daughter in the Pharaoh's household. How he grew up at a time when his people, the Hebrews, were slaves in Egypt. How as a young adult, he killed an Egyptian who was beating one of his fellow Hebrews. And how he then fled Egypt, fearing for his life, to a distant land called Midian, where he met his wife and started tending his father-in-law's sheep.
That's all found in chapters one and two. We don't know anything about his faith in God until chapter three when God gets his attention in a most unusual way.
Have you ever seen a burning bush that just keeps burning and burning but is never consumed? Neither have I.
That's how God gets the attention of Moses.
I like a good fire in the fireplace—we've been burning lots of wood these past couple of weeks. But when I put another log on the fire, the flames consume it in about 30 minutes, which means I'm regularly putting more logs on the fire to keep it burning.
But this bush keeps burning and burning and it isn't consumed. And it isn't made of fire retardant material, either!
Yes, that gets one's attention.
But as if that isn't enough, God speaks to Moses—calls his name, "Moses, Moses!"
"Here I am," Moses replies. And I'm thinking his knees are knocking about now.
God tells him to take off his sandals for he's standing on holy ground.
"I am the God of your father, the God of Abraham, the God of Isaac, and the God of Jacob."
And Moses buries his face because he's afraid to look at God.
That begins a conversation that continues through chapter three into four. God has a job for Moses to do—God wants to send Moses to Pharaoh and tell him to let his people go. Moses is going to lead all of those Hebrew slaves out of Egypt.
But Moses doesn't want the job, claiming he doesn't have the resume for it. He doesn't speak very well in front of crowds, and besides, why should anyone believe that God has sent him?
When God asks you to do something, it's hard to talk him out of it. So, Moses, the reluctant leader, eventually does just what God told him to do. And in time he becomes one of the great leaders of God's people in all of history.
That's a good story, a faith story.
In our series, My Faith Story in 100 Words, we're inviting you to write your faith story … in 100 words.
The questions we're using as our guide are:
When did Jesus Christ begin to get more of your attention?
2. Who or what played a part in this increased attention?
How is your life different today because of your faith in Jesus Christ?
Our theme verse is 1 Peter 3:15:
Through thick and thin, keep your hearts at attention, in adoration before Christ, your Master. Be ready to speak up and tell anyone who asks why you're living the way you are, and always with the utmost courtesy. The Message
To hear this week's sermon, click here.