Day of Caring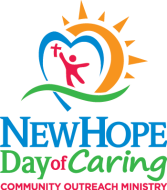 Day Of Caring
New Hope Presbyterian Church 6th annual Day of Caring will be Sunday, September 17, 2017. Volunteer sign-up will begin August 13, 2017.
Below is the list of projects we will support this year. Please fill out the volunteer form at the bottom of this webpage and click SUBMIT.
If you have any questions, please contact Mark Thacker by email at or by phone at 317-727-8611.
Hoosier Veterans Assistance Foundation - Moreau​
Prior to Day of Caring
#
Organizations
Open Spots
Activity
Min Age
1
Pantry drop off
11
Drop off grocery bags at front door of homes week prior to Day of Caring (Sept. 17)
None
2
Unavailable on Day of Caring
9
Bake cookies, supply food for projects (Any time week prior to DOC)
None
28
St. Vincent House
11
Prepare dinner for 30 guests and prepare breakfast for the next morning, in addition to fellowship. The group will collect and donate items from their Wish List to help stock their pantries (Sept. 16 from 4:00pm - 8:30pm)
None
Day of Caring (Sunday, September 17 from 9:00am - 1:00pm)
#
Organizations
Open Spots
Activity
Min Age
3
Making placemats for Kairos
6
Paint/color on white placemats
None
4
Pantry pick-up
14
Pick-up grocery bags at front door of homes
None
5
Cookie Distribution
2
Bake cookies, deliver to local fire and police stations
None
6
Media Team
5
Take pictures and videos of different projects
None
7
Homeless Bags
20
Assemble bags of food, clothing for delivery to homeless
None
8
Child Care
12
Provide childcare at New Hope for children ages birth to 6 years old
13
9
SAWS #1
8
Ramp construction
12
10
SAWS #2
3
Ramp construction
12
11
Megan S. Ott Foundation
21
Make soft, fleece blankets
8
13
Thrive360
21
Assemble meal packs
6
14
The Cheer Guild - Riley Hospital
4
Make fleece blankets
5
16
Hoosier Veterans Assistance Foundation - Moreau
4
Provide breakfast for veterans
None
18
Adopt a Road
22
Youth clean adopted road
None
19
Josie's Impact
8
Undetermined at this point
None
20
Two Dog Mission
7
Two teams of 5 people would serve the homeless - project would start at 11:30am and end at 3:00pm
None
21
Prevail
8
Moving furniture for an office and making no-sew blankets and pillows
12
22
Good Samaritan
28
Sort clothing, toys for Christmas
4
23
Alternatives
4
Cook out, games, art and craft projects - starts later in the morning
None
24
Riley Hospital (Ronald McDonald House)
10
Clean Ronald McDonald House
16
25
Exodus Refugee
10
Organizing their donations or helping a family move in. Need to go through training first.
13
27
Wes Shealey
6
Resurface deck
None
29
Habitat for Humanity
2
Make door wreaths for new homeowners
None