Day of Caring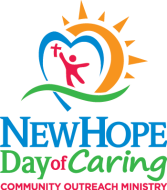 Day Of Caring
New Hope Presbyterian Church's 7th annual Day of Caring will be held Sunday, September 16, 2018.
Over 25 organizations throughout Hamilton and Marion County will be served by over 300 volunteers.
Regular church services are not held that day.
Sign-ups will begin Sunday, August 12th at church after both services. Look for the Day of Caring table in the hallway or sign up on this page starting the same day.
If you have any questions, please contact Mark Thacker by email or by phone at 317-727-8611.
Instructions: 1) Review available projects, 2) complete registration form, 3) click SUBMIT
Prior to Day of Caring
Org. #
Organizations
Open Spots
Activity
Min Age
1
Unavailable on Day of Caring
15
Bake cookies, supply food for projects (Any time week prior to DOC)
None
2
St Vincent House
0
Prepare dinner for 30 guests and prepare breakfast for the next morning, in addition to sharing fellowship. The group will collect and donate items from their Wish List to help stock their pantries (Sept. 14 from 4:00pm - 8:30pm)
10
Day of Caring (Sunday, September 16 from 9:00am - 1:00pm)
Org. #
Organizations
Open Spots
Activity
Min Age
3
Fire/Police Department Gratitude Basket Team
0
Bake cookies, deliver to local fire and police stations
None
4
Media Team
1
Take pictures and videos of different projects
None
5
Child Care/make placemats for Kairos
15
Childcare adults are already in place - this "project" is here only for children ages birth to 6 years old
None
6
SAWS #1
4
Ramp construction
12
7
SAWS #2
6
Ramp construction
12
8
Megan S. Ott Foundation
6
Make soft, fleece blankets
8
9
Thrive360
0
Assemble meal packs
6
10
St. Vincent Kids
0
Make fleece blankets
5
11
Hoosier Veterans Assistance Foundation - Manchester
0
Provide breakfast for veterans
None
12
Hoosier Veterans Assistance Foundation - Warman Woods
0
Provide breakfast for veterans
None
13
Josie's Impact
0
Make little keychains or bracelets for parents who lost a child in the NICU, in addition to snack bags and cards.
10
14
Two Dog Mission
0
Prepare, package and deliver meals for homeless in downtown Indianapolis. Project will last until about 3:00pm. Must be able to walk 2 miles.
None
15
Good Samaritan
0
Sort clothing, toys for Christmas
4
16
Alternatives
0
Cook out, games, art and craft projects
None
17
Exodus Refugee (organization)
5
Organizing the Exodus Refugee offices.
13
18
Ronald McDonald House
0
Serve 20-30 people breakfast. Breakfast is from 8:30am - 9:30am
16
19
Wes Shealey
0
Indoor and outdoor projects
8
20
Reiff's
6
installing a headboard in the master bedroom, removing shelf brackets in the laundry room and installing drywall in the basement.
16
21
Exodus Family
2
Ride the bus with the family to help them learn how to navigate the bus system to make it to the Exodus offices and back. Also walk with them to the Nora Branch library (short walk) to sign them up for a library card, check out some books and practice some English along the way.
13
22
Westminster Village North
0
5 people to be in Ironwood (Memory Care unit) and 5 people to deliver snacks in the other Assisted Living units.
12
23
Prairie Lakes
0
Visit retirement home
None
24
Prevail
8
Paint 1 or 2 offices and build a couple of 4x8 whiteboards
16
25
Food4Souls/Missional Community
0
Serve dinner, play games with guests and perform beautification projects at Gladstone Apartments
15
26
Habitat for Humanity
0
Make door wreaths for new homeowners
16
27
Brandywine Creek Farms
3
Work in the gardens
None
28
Craig Family
3
Mow yard, landscape, mulch
8
29
Pottorff Family
0
Clean gutters, cut down dead tree limbs, haul misc items including extra siding, wood and trash to the dump that is nearby (need someone with a truck), power wash their aluminum siding on house, spray or pull weeds in driveway, trim weeds
6