Day of Caring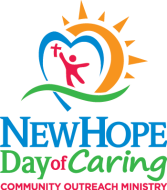 Day Of Caring
New Hope Presbyterian Church celebrated it's 5th annual Day of Caring on Sunday, September 18th. Stay tuned for details on our 2017 event.
New Hope's Day of Caring is a special day of ministry, where every member of New Hope will have the opportunity to practice Arms of Love, which is one of New Hope's Six Marks of a Disciple.
We do not have church service on that Sunday, rather we send hundreds of volunteers from our congregation to serve the community. There is a volunteer opportunity for every person at New Hope, regardless of age or ability.
As always, everyone is welcome to join us - whether you are a member of New Hope, guest or you just have a passion to serve us, please join us!
If you have any questions, please contact Mark Thacker by email at or by phone at 317-727-8611.