Seven Vinyl Records
Seven Vinyl Records
David Baker, a renowned jazz musician and professor of jazz studies at the Indiana University Jacobs School of Music, died last week. He was a giant in his field. This story from his life was in a recent article in the Indianapolis Star: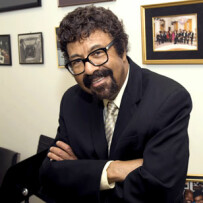 Back in 1978, Luke Gillespie was in jazz musician and educator David Baker's officer at Indiana University and saw the Miles Davis LP "Kind of Blue" on the turntable. It looked worn and scratched, like it was played over and over, Gillespie said.
"Wow," Gillespie said to Baker, his teacher. "You have gotten a lot of mileage out of this record."
Baker's reply, Gillespie said, changed his life.
"Yeah, that's my seventh copy," Baker told him.
Gillespie, a professor in the IU Jacobs School of Music and performer of jazz and classical piano music, surmised that Baker would have had to play the vinyl record hundreds, or even thousands, of times, before the grooves became too worn to allow the needle to stay within the line.
And Baker was on his seventh copy.[i]
No wonder this man was a giant in his field! He had worn out seven copies of the same vinyl record to absorb the music.
This story got me to thinking about the role of Scripture in the life of Jesus' followers. In the opening lines of the Old Testament book of Joshua, God gives this charge to Joshua as he assumed the leadership of God's people:
This book of the law shall not depart out of your mouth; you shall meditate on it day and night, so that you may be careful to act in accordance with all that is written in it. (Joshua 1:8)
God invites us to absorb the Scripture so that its words become part of who we are.
Do you have a daily practice of reading the Bible that you might absorb it?
If not, I invite you to get started. If you are new to the practice, here are a few suggestions.
If you don't already have one, purchase a modern translation of the Bible like the New Revised Standard Version or New International Version.
Set aside a consistent time each day to read the Scripture for ten minutes.
Start with one of the four stories about Jesus in the New Testament: Matthew, Mark, Luke or John.
As you read, ask yourself questions like: What is God teaching me in this passage? Does the passage prompt me to think about my life in a new way? Or prompt me to take action in some way?
Above all, just read. Read the Scriptures day after day, week after week, month after month, year after year. Absorb it.
Who knows, maybe years from now you'll have worn a Bible or two!
Keep pressing on,
Steve
[i] Indianapolis Star, March 27, 2016.