December's Moving Sidewalk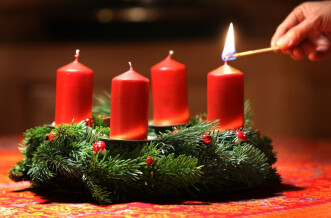 Welcome to December! For many, this month is filled to overflowing with activity. Perhaps already you've heard someone say, "This season is so busy it seems like there's no time to really enjoy it."
That often seems to be true. Our already busy lives accelerate this month. It's like walking briskly through an airport and then coming to a moving sidewalk. Once you step onto it you suddenly walk even faster. December is a moving sidewalk!
I invite you to be intentional this month about slowing down a bit. Take some moments to step off the "moving sidewalk" of the season to savor the message of Advent.
One simple way to slow down is to carve out some quiet moments, even ten to fifteen minutes is a start. During those quiet moments, open your Bible and enjoy these Advent Readings:
Isaiah 9:2-7 Luke 1-2
Isaiah 40:1-5 John 1:1-18
Isaiah 61:1-4 Titus 2:11-14
Matthew 1:18-25 Hebrews 1:1-4
Appreciate all over again the story, the language, and the poetry of these readings. But even more so, enjoy the message.
"He is the reflection of God's glory and the exact imprint of God's very being, and he sustains all things by his powerful word." Hebrews 1:3 (NRSV)
Keep pressing on.